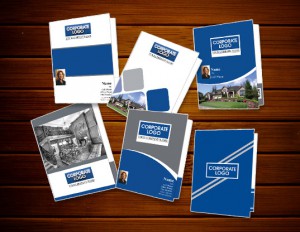 There are several marketing tools you can use to grow your real estate business, but some REALLY make you stand out from the competition. Agents who use custom marketing tools set the agent (and their company brand) communicate a sense of professionalism and success that directly contribute to sourcing new listings. Consider Caldwell Banker presentation folders as an excellent tool to organize your listing printouts, sales information, interest rates, and all other important documents that are stacked during the home buying and selling process.
Real estate presentation folders keep your documents clean, organized, and presentable so you can professionally present with ease and convenience. Everything you need to market your listing as well as clearly define your full suite of services is sourced in one impressive package. This supports a smooth buying and selling process for both you and your clients.
If you want to be the envy of your target market, then opt for customized presentation folders. You can personalize each presentation folder's cover with name, photo, and contact details to tailor your company's specific style. You can choose a folder with a business card slot placed on the inner pocket so clients can easily access your contact information. This will save time and efforts to your agents and will give you confidence that your brand is being presented professionally.
For your personalized presentation folder printing needs, contact Best Print Buy.