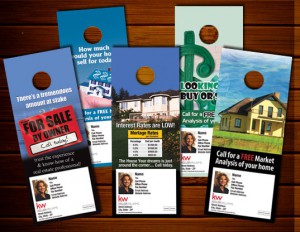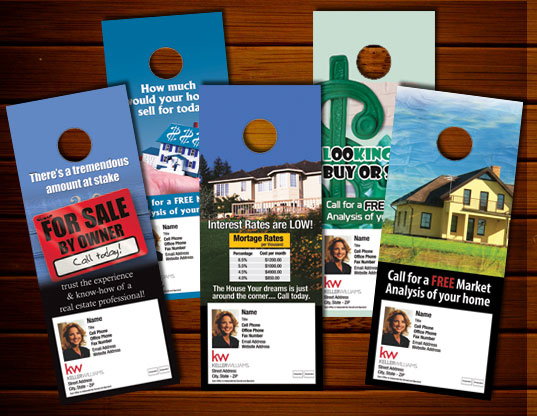 The hot home-selling season is just around the corner! The successful real estate agents are currently marketing their target areas with proven methods obtain more listings. It's important for agents to constantly consider the various real estate marketing tools at their disposal.
Direct marketing strategies are proven to be effective when done right leading to more sales and greater profits. Real estate door hangers are proven effective and profitable direct marketing tool. Door hangers offer certain advantages over postcards and other direct mail marketing tools. They stand out and simply can't be ignored by the targeted homeowner. They are impossible to be overlooked because they are placed on door knobs and not lumped in mailboxes. Door hangers enable you save on postage and mailing hassles as well.
Effective real estate door hangers are creatively designed to promote your brand with attention-getting colors and layout. We'll help you design bold (yet clean) and easy-to-read text. Professionally customizing the design, content, and layout of your door hangers is the key to successful door hanger marketing campaigns.
To find out more about real estate door hangers, contact Best Print Buy.