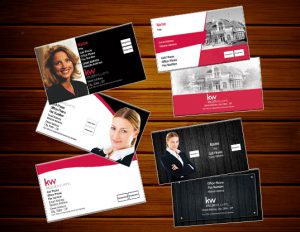 In order for your real estate business to continue to grow and flourish, consistent advertising, branding, and marketing campaigns need to be implemented. Real estate agencies use different branding solutions to create visibility and build maximum impact to clients. One solution that has been proven to be an effective direct marketing tool is real estate business cards.
Business cards are a quick introduction to prospects that contain important information for the company and yourself. Therefore, it is important to ensure that real estate business cards are up-to-date and create a good first impression. To impress more prospects, choosing customized real estate business cards match any season or campaign and will be an advantage over the competition. Updating your business card with a fresh, eye-catching design makes customized real estate business cards that captivate and catch the attention of prospects. From color combinations, text, and graphics that correspond to the season, the message, and the campaign, your business cards will surely to stand out.
The more professional and creative your business cards are, the easier it will be to reach your prospects. Carrying quality business cards at all times ensures that you never miss an opportunity to make a worthwhile business connection. Contact Best Print Buy.