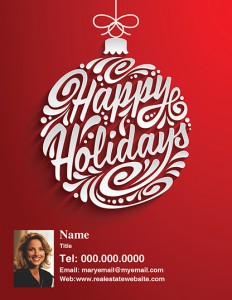 Real estate marketing sales can slow down and get buried in the snow during the holidays. But real estate professionals should still be thinking about marketing. Who knows, during the holidays you can still close a deal. The trick is to getting the attention of house hunters even during the busy holiday season is to infuse holiday flair to your marketing.
A real estate holiday greeting card is a perfect tool to stay connected with clients. Fun and attractive holiday greeting cards can put a smile on their face and a thought in their mind. Real Estate Greeting Cards offer hundreds of designs for real estate holiday and Christmas greeting cards that can be further customized to add a personal touch. Your clients will surely appreciate the thoughts and well wishes.
With seasonal real estate greeting cards you can send joyful holiday tidings to everyone on your list. So impress your clients seasonal marketing. Contact Best Print Buy to get started.