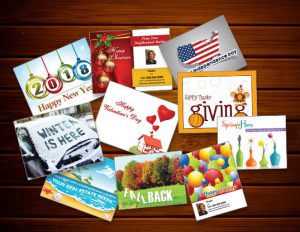 Unlike many other businesses, the real estate business can slow down in the fall and winter and often better, more effective real estate marketing must be done in the slower, colder months. Most real estate agents agree that the numbers of homes for sale plummet during this time of the year. But for those who are dedicated to their business, time is gold and by pausing real estate marketing, businesses can miss out on opportunities if they don't work on getting leads during this time.
The holidays begin next month, now is the time to start thinking about holiday real estate marketing strategies. Take advantage while your competitors are waiting for the spring market to return. Although sales traditionally drop at this time, clients are more motivated and the search for real estate professionals still take place during the holidays. If you are enthusiastic with consistent marketing, real estate deals can close all year long. .
Keller Williams holiday marketing products are perfect marketing tools to keep your real estate marketing moving this winter. Real estate professionals can create customized holiday real estate postcards, winter greeting cards and winter door hangers as well. These can serve as appreciation cards to past or existing clients or they can be sent to prospects to let them know you are looking forward to working with them sometime in the future.
The colder weather shouldn't have to freeze your real estate sales. With the right use of these creative marketing tools, you can break the ice and rise above the competition. Contact Best Print Buy to find out more information about Keller Williams Holiday promotional products.