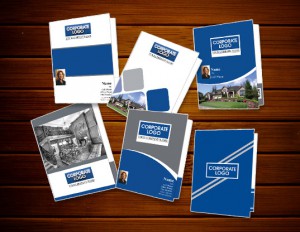 The effectiveness of real estate marketing is highly dependent on the image of the properties for sale as well as the realtor managing the transaction. With the use of attractivereal estate folders, your image can be enhanced in the eyes of prospects and clients by keeping contracts and important documents organized and presentable.
Selecting the right design for real estate presentation folder is vital to making this essential tool effective. There are many options for presentation folders. The standard pocket folders are useful for tidy insertion of documents. The organized look is more appealing to clients than a messy stack of loose papers. Meanwhile, legal size folders enable realtors and agents to submit signing paperwork in-style. You can organize brochures for a specific listing using small folders while you can store your property's photos and pictures using small landscape style folders.
Customized presentation folders can be tailored to your company's specific style. Contact details can also be held in a pocket within some styles of folders so that clients can easily find your information and get in-touch.
For high quality customized presentation folders, contact Best Print Buy.