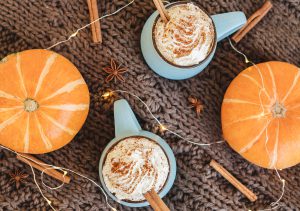 There's no surer sign of the arrival of fall than the return of pumpkin spice lattes, Halloween merchandise, and caramel-covered apples. Ok, to be fair, many of these items seem to reappear while the beaches are still full and the schools are still empty, but the point stands: their arrival is often a welcome reminder of the changing of the seasons.
Real estate business cards, on the other hand, probably don't need to change with the seasons – but they do need to change. It's important that your business card stays up to date not just with your contact information and tagline, but also with changing designs and information needs. Ten years ago it may have made more sense to have a fax number than a Facebook page on your business card, but these days it just makes you look out of date.
Similarly, business card styles have changed significantly over the years. Some of that is about changing fashion trends, where modern cards favor minimalist designs, bold colors, and crisp, clean lines. But as printing capabilities have improved over the years, it's also increasingly easy to create business cards in a variety of shapes, sizes, and design options that were previously either not feasible or too expensive to be practical.
Now, in addition to customizing the design of your business card to reflect your brand, you're able to choose a card shape or style that helps you stand out from the crowd. Luxury or commercial real estate agents can opt for a classy gold or silver foil-printed card on silk laminated stock, or a matte-finish ultra-thick Coldwell Banker card for added heft. Agents looking for a more modern style can choose from standout square Coldwell Banker business cards or spot-UV embossed cards with a subtle glossy sheen.
Whatever your business card style, BestPrintBuy can help you make it your own with our easy-to-use custom design center. Get started today.