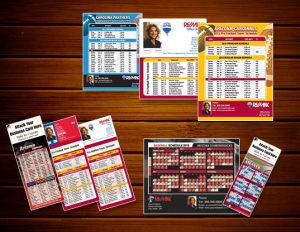 This year's March 29th Opening Day was the earliest ever for Major League Baseball – and perfect for real estate agents who can take advantage of the opportunity to send out a hot promotional item in time for the spring real estate market to start heating up.
Promotional RE/MAX sports schedules are an incredibly popular offering each year, and for good reason:
They're packed with useful information, so prospects look forward to receiving them and hang on to them all season long.
They're available in custom color schemes for every team in the major league, making them a great way to show some home town pride.
They're easy to integrate into your own branding, keeping your information front and center.
They're often placed in highly visible areas like the front of a refrigerator or tacked on a cubicle wall, so guests and other passers-by will also see your information.
Used consistently, real estate baseball schedules can do wonders for increasing your name recognition in your target market. More than 70 million people attend baseball games each year, and many more watch the televised games. Even mailing list prospects who've never heard of you will quickly grow to recognize you if you send them a baseball schedule each year.
BestPrintBuy offers several forms of promotional baseball schedules, all updated for the current season and with eye-catching designs that reflect the team's logo and colors:
No matter which option you choose, you can't go wrong by betting on baseball.