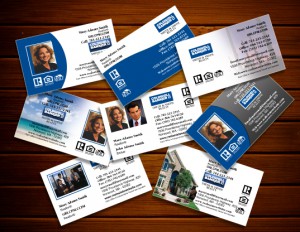 A majority of the time spent by real estate agents is out in the field or outside the office, which makes real estate business cards essential. This is a great way to show preparedness and to make a lasting impression to potential sellers and buyers. Having a professionally designed business card, and always having them on hand to distribute will make a difference in your business.
Effective real estate business cards can help your business stand out. They are typically used to get brand, contact info and other identifying information out to prospective clients. Real estate business cards can be used to further enhance your advertising and marketing efforts creating visibility for your brand. That is why choosing a good design for your business card is crucial. By adding your name and important contact information, choosing the right color scheme carefully, and by adding a great image, logo, and other graphics, can help you achieve the business card that suits your business needs. On the other hand, your card should not be cluttered with large font and unnecessary information.
You can create a real estate business through the wide array of pre-designed real estate business card templates that are available. Or, you can create from scratch and make use of the various customization options by creating well-designed business cards that are more striking and more appealing in order to catch the attention of those who receive them.
To find out more about real estate business cards, contact Best Print Buy.