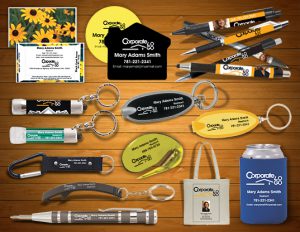 Postcards, business cards, and door hangers may be the work horses of the real estate marketing world, but they just don't have the glitz and glamor that promotional items bring to the table. If your marketing is getting a bit stale, spice it up with some fun Century 21 real estate promotional items. There are tons to choose from, and several great reasons why you should:
They're useful
Promotional products are truly the marketing product that prospects love to receive. Whether it's a mug, a jar opener, an ink pen, or a can cooler, you're giving your contacts something they'll actually be able to use in their day-to-day lives.
They're memorable
Real estate business cards certainly have their place, but it can be hard to stand out from the crowd when you're handing out another version of the same thing that everyone else is. But when you hand over a bottle opener or a flashlight, suddenly you're making an impact. Real estate promotional items let you leave a real impression on your prospects.
They're designed to be seen
The best part about real estate promotional items is the ripple effect. From pens to tote bags to bottle openers, our best sellers are products that your prospects will be sure to bring out over and over again. And every time they do, it's another opportunity for them to tell someone about your business. It's the power of the real estate car magnet, multiplied a hundredfold.
The activate the Law of Reciprocity
The best part about promotional items? While they act like marketing pieces, for your prospects, they also feel like a gift. And thanks to human nature and the law of reciprocity, when people receive a gift, they feel more favorable toward the gift-giver. That in turn makes them want to return the favor with a favor of their own, like referring you to their friends and colleagues.