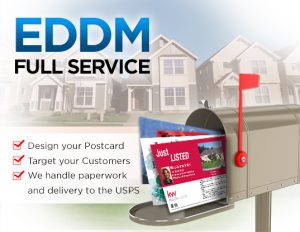 Real estate postcard campaigns have been a winning bet for a long time. They're cost effective, easy to create, and a great way to get your message out to a large number of prospects all at once. The only drawback is the time it can take to get the campaign rolling, from creating the postcard to choosing the best routes to getting everything over to the post office. Fortunately, we've figured out a way to make the process even easier for you: Full Service Every Door Direct Mail.
At BestPrintBuy, our mission is to simplify marketing for real estate professionals across the country. In addition to our diverse catalog of products available to help you market your business, we're constantly working to create new services that make it easier to get business done.
Our Full Service EDDM program is no exception. We started with a great offering, EDDM postcards delivered to you. This option made it easy to plan out EDDM campaigns with postcards that had been specifically prepared to meet the requirements of the US Post Office's EDDM service. And while this option continues to be popular with many real estate professionals, it does still require you to take the postcards to your local post office, and complete all the paperwork to get them sent out.
That's why we developed our Full Service EDDM program. All you have to do is choose a design, customize it with your information, and tell us where you want it to go. We'll handle everything else. With our streamlined customization platform and easy EDDM mapping tool, you can get a postcard campaign planned and scheduled in 10 minutes flat. It's the perfect choice for busy agents, busy seasons, and anyone who would rather spend their time showing houses than schlepping to the post office.