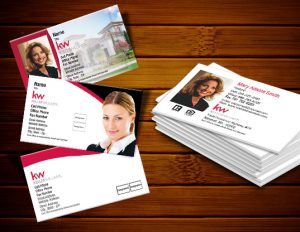 Business cards are a modern-day staple: inexpensive, ubiquitous, and incredibly convenient. In fact, their convenience was discovered early on, as the practice of handing out small cards with information about your business or shop dates back more than 400 years. English trade cards, featuring small advertisements or maps to a shop location, were the merchant equivalent of the social calling card.
But while the basic function of the business card (giving out your name and information about your business and making it easy to get in touch with you) hasn't changed, the specifics certainly have. After all, not very many people were including their phone number on a business card in 17th century London!
So if you want your Keller Williams business card to be effective, that means keeping up with the times. It means adding website or social media information as those contact methods increase in relevance, and removing other methods (do you really still need a fax number on your business card?). Here are some elements to consider when designing your next business card:
Legal requirements
Every state has different compliance regulations when it comes to how real estate agents need to identify themselves. For example, in California all agents need to include their DRE# on their business card. Other states might require real estate business cards to disclose whether the agent is a broker or managing broker.
You should also consider listing your professional designations on your business card, as well as any professional obligations you might have, such as the requirement for your card to indicate that you are a REALTOR®.
Business identification
It's pretty important to know who you're working with! Whether you're an individual agent or part of a large realty group, you want to make sure that information is clearly indicated. It's also good to know whether you need to include a disclaimer to the effect of "each office is independently owned and operated".
Contact information
Deciding which contact information to include on your Keller Williams business card can be tricky. After all, there are a lot of ways to get in touch these days: office phone, cell phone, fax, email, Facebook message, Tweet, website contact form, etc. It doesn't make sense to include every possible option, so you'll have to choose the 2-3 methods that are the best fit for you. We recommend including a website where possible, as well as a cell phone number. After that, your best bet is to include the contact method that you're most likely to check and respond to frequently.
Design elements
The big question: should you include a photo on your Keller Williams business card? It's an oft-debated topic in the real estate world, and we can't tell you which to choose. But whatever choice you make, don't worry – BestPrintBuy has tons of attractive, eye-catching business card designs ready for you to choose from.