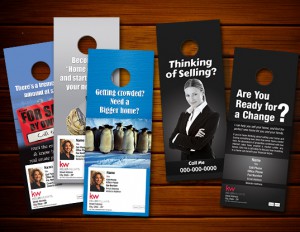 Door hangers are a direct marketing tool that are rarely talked about. Most companies only consider direct mail postcards. Door hangers are not the first thing that comes to mind when thinking about promotional tools. However, these marketing tools are effective and perfect for small businesses. When done right, real estate door hangers can offer more visibility to your target market than direct mail postcards. Thus, it is important to target your clients geographically and choose a specific neighborhood that you want to advertise and promote.
Door hanger marketing strategies are effective because everyone will sees them as they hang from the door handle. For this reason, prospective clients are forced to see the information provided about your real estate business. Another benefit of using real estate door hangers is that the competitors will not be able to copy or undercut your marketing strategy. The best part of using real estate door hangers is that they can be customized. There are endless options to choose from when considering color, images, graphics and fonts to meet your advertising requirements.
Real estate door hangers are favorable for small-scale businesses. You can reach a big, targeted audience in a short period of time. They are tangible and will catch attention immediately. Door hangers as real estate marketing tools offer measurable results so you can easily determine whether this marketing strategy is successful.
To find out more about real estate door hangers, contact Best Print Buy.