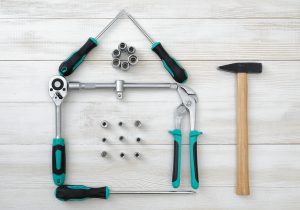 Every industry has tools of the trade, things that make your life easier as you go about your business. For real estate agents, who spend so much time working out of their cars and dealing with unexpected issues, it's vital to have a great tool kit on hand wherever you go! Here are 10 must-have tools you should make sure your car is stocked with before you meet your next client:
Measuring tape or laser measuring tool – Whether you're preparing a listing or helping prospective buyers determine whether their couch will fit through the front door at an open house, it pays to be prepared.
Keller Williams rubber stamps – A good self-inking rubber address stamp is way faster and much more efficient that writing addresses by hand (or even sticking on adhesive address labels!). Once you make the switch, you'll never go back.
Business cards – You never know who you're going to meet during the course of the day. Don't leave the house without your Keller Williams business cards – and lots of them.
Dotloop/ Docusign/ etc. – Online signing is the way to go whenever possible. It lets you get an offer in quickly for your clients, avoid trying to find a time and location to meet, and keeps everything nicely organized.
Mobile charger – Don't be left in the lurch when you're out with clients! Keep a mobile charger and, if possible, an emergency battery pack for any device (smartphone, tablet, etc.) you rely on when you're on the road.
Name badge – A high quality Keller Williams name badge can help you maintain a professional appearance no matter where you are. And if you're meeting clients for the first time, especially out at a listing, it can be a good way to put them at ease and reassure them that you are who you say you are.
Cleaning supplies – Ok, you're not going to be providing a full maid service, but being able to spot-clean a countertop or vacuum up a spill can make a huge difference in your open houses and showings.
Flashlight and spare batteries – Whether the electricity is off, there's a bulb out, or you just want to take a look in a dim closet, cabinet, or crawl space, you can't beat a good flashlight. Spare batteries will not only keep the lights on, but can help you check smoke detectors and keep your measuring tool alive, as well.
Notepads – Encourage prospective buyers to write down what they like and don't like about the homes they're looking at on a personalized Keller Williams notepad. Even if they stall in the buying process, they'll still have your notepad with all your contact info ready to go when they want to start looking again.
Real estate signs – Got the listing? Great! Keep up the momentum by putting a real estate yard sign in place right away. Not only will your new client feel relieved about getting the process started, but you may end up with a phone call from a prospective buyer before you even make it back to the office!