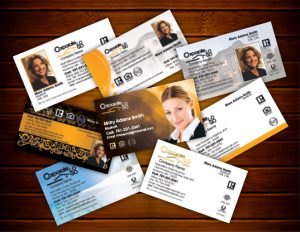 There is high competition in the real estate business. This means brokers and agents needs consistent advertising, branding and marketing campaigns to stay relevant. Real estate business cards are one of the solutions that make a great impact in creating visibility for your brand. They can be used as a tool for introducing real estate companies or for staying top-of-mind with those who are already familiar with you. They can also initiate communication and help build business relationships.
Business cards are effective marketing tools because they are handy and convenient. It is essential to create effective real estate business cards to ensure that they make a good impression on prospective clients. Hence, customized real estate business cards can attract more prospects than the typical and ordinary business cards. There are a wide array of pre-designed real estate business card templates available. But through customization, creating professionally-designed real estate business cards can be more striking and appealing.
The effectiveness of the design of business card is measured through several parameters, like the placement of the company logo, color combinations, type of font and background color. It depends upon your specific need for how to promote your brand name, business address, contact information and more.
To find out more about customized real estate business cards, contact Best Print Buy.