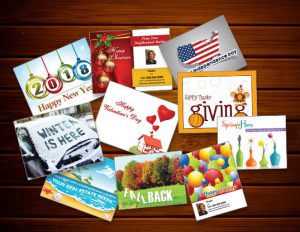 Building a referral-based business has a ton of advantages for real estate professionals: lower marketing costs, greater client satisfaction, reduced time spent on marketing activities, and more. But in order to get a great response to your real estate referral postcards, you need clients who are so happy with your service that they can't help but refer you.
When a client walks away from a real estate transaction having had a "just OK" experience, they may be unlikely to complain – but they're not likely to sing your praises, either. If they had an amazing experience, on the other hand – one where you helped them find a home of their dreams and a great price, or sold their home almost as soon as it went on the market, or smoothed over all of the challenges with the closing process – you'll likely have a fan for life, and one who is happy to tell everyone they know about how great you are.
In short, the best way to get world-class referrals is to provide world-class service. Here's how:
Start off strong. There's no doubt about it: first impressions matter. A great initial meeting can help you set the right tone for the rest of your client interactions. Show up prepared for your first meeting with prospective clients by gathering any documents you might need. Include copies for the client in their own custom document folder – not only will they have everything they need in one place, but they will also have your information along with it.
Stay in contact. One of the most common frustrations people have with the real estate process is feeling in the dark and out of control. Staying in touch with your clients, and making sure they understand every part of the process, is vital to ensuring that they feel good about working with you.
Whether you prefer to have a set weekly phone call or to reach out to them whenever there is something new going on, what really matters is setting expectations and sticking to them. You should also provide both phone and email information on your real estate business card, and let clients know that you're able to answer their questions at any time throughout the process.
Sweat the small stuff. Buying or selling a home may be a big transaction, but it's the little details that matter most. Clients want to feel that you aren't letting anything slip through the cracks. Go above and beyond whenever possible: show clients how to walk through a neighborhood to see if they'd be happy living there, have a detailed plan for marketing their listing, be pro-active about finding houses they might love. And after you make the sale, don't forget about their birthdays and anniversaries – they're perfect opportunities to send a real estate greeting card that reminds them you care (and that you'd be the perfect person to refer to their niece/ cousin/ friend/ co-worker…).