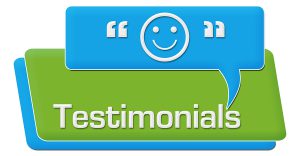 If you believe the adage that people do business with those they know, like, and trust, then building trust is one of the most important things any real estate professional can do to build their business.
Unfortunately, building that trust can be an extremely time intensive process.
However, there is a way to speed the process up: using testimonials in your marketing. People are often far more convinced by someone else saying good things about you than they would be about you saying those same things yourself.
How to get testimonials
The best way to get a good testimonial is to ask for one. But the best way to get a great testimonial is to make it easy. Clients may love working with you, but they also lead busy lives. It's easy for them to forget to fill out a form or to send you an email testimonial about their experience.
If you want to get testimonials in a timely fashion – and testimonials that are more specific than "Working with Jane Doe was great!" – you'll need to make it even easier for your clients to give you the glowing review you need. That might mean making a quick video of them after a great closing, or hiring a local writer to do a brief phone interviews and write out the testimonials for your clients (with their permission, of course). Let clients know before the closing that you'll be asking them for a recommendation, so they can be prepared.
If you're having trouble getting great testimonials even when you make it easy, it's time to look at your service. If you want over the top testimonials from your clients, you need to make sure you're providing world class service. And of course, if you're getting negative feedback, you'll want to remedy those issues.
Where to use testimonials
When it comes to using testimonials, more is better. If you can find a way to work great testimonials into every element of your real estate marketing, you can only benefit. At the very least, you should be featuring testimonials throughout your website. You can make a strong testimonial the centerpiece of a prospecting postcard, highlighting your dedication to making sure that every client of yours comes away from their transaction just as satisfied. Short testimonials can be highlighted in a call at box on a real estate brochure or flyer.
You can even use testimonials as a part of a door hanger campaign. Going door to door speaking to homeowners is a great way to not only get your testimonials into as many hands as possible, but also helps connect your face with your marketing materials.
The best part about testimonials is that they're timeless. Once you've invested the time into getting a great testimonial, you'll be able to use it in your real estate marketing for years to come.