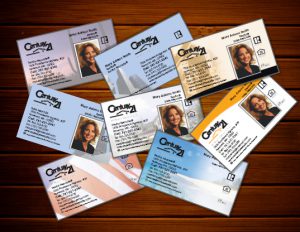 Just because of their size, business cards should not be underestimated when it comes to marketing a real estate business. They may be small but their contribution in business is big. There are several advantages for having a business card as a marketing tool.
Effective real estate business cards are key to a real estate agent's success. Their size makes them portable so real estate agents can bring them anywhere. In return, individuals who are searching for prospective clients can easily introduce themselves in a way that they will not be forgotten. Professional-looking business cards show that realtors really mean business. They can easily be handed out to present and prospective customers.
Eye-catching real estate business card templates are available along with a wide array of options for customization. This allows realtors to custom-design business cards that can truly represent them as someone to be trusted. Business cards have proven their worth particularly in facilitating the process of establishing rapport and connection for future business opportunities.
To find out more about real estate marketing business cards, contact Best Print Buy.