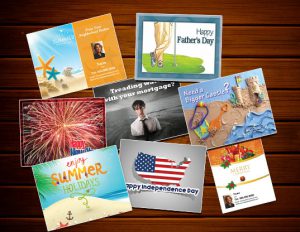 We've all had them: potentially great clients who looked at a couple of houses, but decided the time wasn't quite right to get into the market. Or prospects who considered putting their home on the market, but ultimately decided that it wasn't the right time to make a move. But just because someone wasn't ready to get started the first time around doesn't mean that they'll never close the deal.
It's always a good idea to keep a list of hot leads and prospects from your past, and make the effort to reach out to them specifically (in addition to sending them your email newsletter or including them in your real estate postcard campaigns). Here are 7 ways you can get in touch:
Whenever you update your real estate business card, send them a couple of cards with a quick note letting them know you wanted to make sure they had your up-to-date contact information.
Connect with them on social media. If you're already connected, try to engage by commenting meaningfully on some of their posts or sending a message asking how they're doing.
Send them a fun, personal promo item, like a seed packet (if you know they like gardening), a screwdriver (if they're the handy type), or a flash drive (if they're more of a techie type).
Share an article with them that is relevant to their interests
Send them a personalized holiday greeting card (smaller holidays are especially good for this – Father's Day is coming up on June 18!)
Wish them a happy birthday or happy anniversary
Send them market information that is relevant to their situation. Don't approach it in a pushy or salesy way; just let them know that, for example, houses in their area are selling quickly, or that you've seen some great listings come on the market that match what they were previously looking for.
With real estate having such long lead times for moving from prospect to client, it can pay off big to remind previous contacts about your business. And remember: people can still refer you, even before they've actively worked with you! Show your connections that you care about them as people, and they'll know that you're an agent they – and everyone they know – can trust.