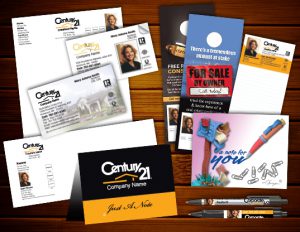 Starting a new business is always a balancing act: you want to make sure you have all the supplies you need to be successful, but you don't want to get so side-tracked by the details that you forget to focus on actually building your business.
So when is comes to starting a real estate business, once you've gotten the licensing requirements out of the way, what else do you need? Here are four elements to put in place before you get up and running:
A place to work – Ideally, you would have dedicated office space, and if you're joining a firm you will likely gain access to some office space. But the reality is that real estate is not a 9 to 5 business, and you'll need to have somewhere to work when you're at home (whether it's all the time or just for when you bring your work home). Aim for a quiet, distraction-free area, where you can keep your necessary supplies close at hand.
Business cards – The humble real estate business card is the foundation of many a successful real estate career. And for a lot of people, just having a business card in hand can make them feel much more confident when they get out into the networking world. You don't want to spend a huge amount of time designing your business cards (like, so much time that you forget to go out and find your first clients!), but don't be afraid to have a little fun – square business cards, mini business cards, and foil business cards are all great choices for a card that will stand out from the crowd.
A business plan – Whether you're striking out on your own or joining an established firm, it's a good idea to lay out your goals and plans for the coming year. The real estate business can fluctuate significantly over the course of the year. It's good to know what your targets are, so you can know whether you're staying on track. A business plan also reminds you to stay on top of marketing your real estate business, even when you're feeling overwhelmed with other tasks.
Client-facing collateral – You might be just getting started with your real estate business, but it's important that your clients feel like they're in competent hands. Whether you're taking clients out for a showing, holding an open house, or getting together for a listing meeting, make sure you're bringing your A-game. That means professional real estate apparel and a personalized name badge to look the part, and well-designed real estate brochures, document holders, or custom real estate presentation folders to help you project an organized, professional image.
If you need help getting started with the right marketing materials for your real estate business, BestPrintBuy is here to help. You can get in touch with us at 1-866-763-8720, or through email at customercare@bestprintbuy.com.