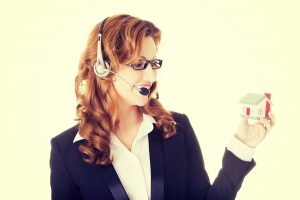 We talk a lot here at BestPrintBuy about choosing the real estate marketing products that will help you see big results. But it's just as important to talk about what to do once you do start seeing results.
Let's say you've just sent out a particularly effective postcard campaign, or put up a real estate yard sign in front of a home you're trying to sell. What should you do when you start getting calls?
Think big picture. The goal in any conversation you have with a prospect should be to build a relationship. You don't want to overwhelm them with pressure to be a client, but you also don't want to just blurt out the details they're looking for without getting any additional information.
Learning more about what they are looking for isn't just being a good sales person; it will also make you far more effective when it comes to helping the prospect. After all, the more you know about what they need, the better equipped you'll be to point them in the right direction.
Ask the right questions. Having someone call you about a home where you've placed a Keller Williams yard sign is a great opportunity. Right away, you know two things about the caller: they are thinking about buying a house, and something about this particular house drew them in.
But before you rush to tell them all about the listing, try to find out more about their needs. Are they first-time home buyers? How long have they been looking at properties? What kind of space are they looking for? Once you understand their needs, give them the price of the home they're interested in, and  find out if they're currently working with another agent. If not, you're in the perfect position to suggest that you meet up so that you can show them some other homes that would be a good fit for their needs.
Focus on adding value. No one wants to feel like they're being sold. But if you can find a way to add value for your prospect in the initial call, not only will they feel less pressured and more receptive to your ideas, but the fact that you've "given" them something will activate a sense of reciprocity that will make them more likely to want to return the favor.
We've looked at how you can add value in a buyer conversation by understanding and addressing their needs. But what if you send out a market analysis postcard and hear back from potential sellers? What you don't want to do is jump right into asking for the listing. Instead, start by giving the prospect information: trends you've seen in the market right now, houses you've sold in the area, etc. Giving your prospects general information will make them much more receptive when you offer to give them specifics, by stopping by their house for a free comparative market analysis.
The next time you start seeing results from one of your real estate marketing campaigns, follow these three simple rules, and you'll see just how effective they are at moving your callers from interested prospects to active clients.