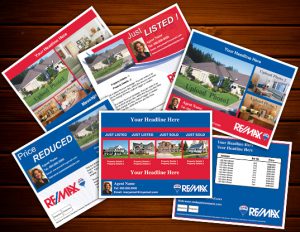 When it comes to a real estate postcard campaign, there are a couple of important decisions to make: when should you send your postcards, how often should you send them, what should they say? But there is another important issue that shouldn't be overlooked: where should you send your RE/MAX real estate postcards, and who should you send them to?
Only once you know the answer to those questions can you address issues like choosing the right design and message. Fortunately, there are several options, each with their own advantages and disadvantages:
Send them to everybody
Every Door Direct Mail (EDDM) lets you send a mailing to everyone in a particular area (typically divided up by mail carrier routes). This is a great option for when you're introducing yourself to a new market, or you've got a message to send out with broad general appeal. Market update postcards are also a good choice for EDDM, because you're able to target a relatively small area.
Send them to past clients
People you've worked with in the past are your best source of referrals and new business. Stay in touch with relationship-building messages that focus more on wishing them well and staying connected than on asking for more business. Holiday and Season's Greetings postcards are a good option, as are useful cards that feature baseball or football schedules. If you've been staying in touch regularly, then a referral postcard won't seem out of place once or twice a year.
Send them to a purchased list
There are certainly pros and cons to working with a purchased mailing list, but if you can find a well-curated option for your area, it can be a smart way to send out targeted marketing messages. Look for young families and apartment dwellers to send out RE/MAX first-time buyer postcards, or target people who have owned their home for years to send a market analysis or "How much is your home worth?" postcard.
No matter what kind of list you're working with, getting your postcard campaign off the ground is a snap with BestPrintBuy. We have direct mail options for both EDDM and standard RE/MAX postcard mailings, so you can get your design out the door and into your prospect's mailbox.