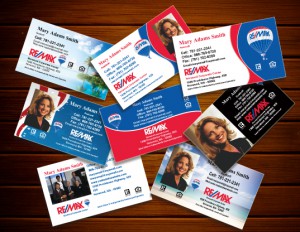 As a real estate professional you may be surprised how real estate business cards can help you thrive in such a competitive industry. Business cards may be small in size but their positive effect on your marketing campaign can be significant when used regularly and designed properly.
In today's increasingly digital world, the idea of carrying around a stack of effective real estate business cards may be overlooked. But it cannot be denied that there are clients who need business cards in order to keep you top-of-mind. In fact, business cards remain a viable marketing tool today. Marketing is about making a connection with prospective clients. The use of real estate business cards is one of the best ways to make initial contact by simply handing them your card.
Real estate business card templates are available to help real estate agents create professional looking cards that will help in marketing after an introduction. In addition, business cards can serve as an important marketing tool by helping you make a lasting impression on potential clients. If you give a potential client a physical business card instead of relying on them to remember your name and agency, it is easier for you to be contacted when they plan buy or sell.
To find out more about real estate marketing business cards, contact Best Print Buy.