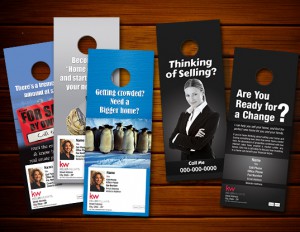 With the massive amount of customization options it is entirely possible to use professionaldoor hanger marketing strategies that match your direct mail campaign. For door-to-door marketing, marketing tools can be strategically custom-designed to put your real estate business in the best light by using full-color backgrounds that enhance text and include a specific marketing message as well as contact details.
With the digital printing professional-looking real estate door hangers have a short printing time, often same-day turnaround, so that you can use them for last-minute open houses and price reductions. Through Best Print Buy, they are printed faster than with traditional printing and in high definition so prospective clients can easily read each piece.
Get more leads with door hanger marketing. Door hangers are effective and creative real estate marketing tools offering the visibility businesses need. While a mailed pamphlet that is delivered with a stack of mail may be easily ignored, a professional looking marketing door hanger which is hanging from a prospects entryway is not.
To find out more about real estate door hangers, contact Best Print Buy.