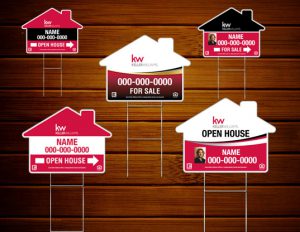 The number one task of any open house is to get people through the front door.
Once they're in, you can build a connection – whether they're serious buyers, or curious neighbors, or just daydreaming about one day buying a house; whether they look through the rooms themselves or you give them a guided tour; and even if they're looking for a two-story Tudor when you're showing a split-level ranch. Getting people in the door is half the battle.
The benefits of better turnout
Of course, every open house aims to draw in not just plenty of potential buyers, but specifically the kind of buyers who are interested in the house that they're viewing. But there are plenty of reasons to be happy for every person who treks through your open house:
Word of mouth: Talking about real estate is one of America's favorite pastimes. Even if the person who comes to your open house doesn't fall in love with the home themselves, they're likely to talk about it with with other potentially interested parties.
Relationship building: Most of those people who come to wander through an open house because they're "just daydreaming" will be in the market for a new home, and likely sooner rather than later. If you can develop a rapport, they're more likely to come to you when they're ready to start searching in earnest.
Market research: An open house is a perfect opportunity to get an unfiltered view on what buyers are looking for in the current market. Not only will you gain better insight for the seller of the open house, you'll also be better positioned to help all of your buyers and sellers over the next several months.
How to Bring a Crowd to Your Open House
Give them a sign: The only successful open house is an open house with a big, bold, easy-to-read sign out front. Whether its a part of your post and panel yard sign or a sidewalk A-frame, people can't visit what they don't know about.
Send them a letter: Open house postcards are an excellent way to get the word out about a house you know is coming on the market, especially if it is one that will appeal primarily to a narrow group of buyers.
Spread the word: There are a lot of ways to let people know about open houses online, from Zillow to Facebook ads to local newspaper listings. Figure out what works best for your market, and get the word out to as many people as possible.