Versatility is one of the big benefits of a real estate door hanger: if no one is home when you come knocking, it's easy to leave an attractive and eye-catching announcement of your visit. But if there is someone there to answer the door, you can use your door hanger's message as a jumping off point for a conversation.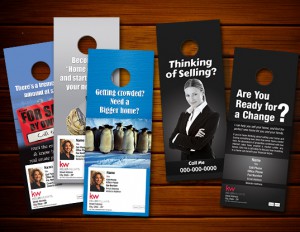 After all, if all you do is hand over the door hanger and move on to the next house, then you might as well just send a postcard. The whole point of the extra effort of a door hanger campaign is the opportunity to build connections. Here are several ways to use a door hanger to start a conversation:
Introducing yourself: Whether you're new to the business, new to the area, or new to the company, a Keller Williams agent introduction door hanger gives you the opportunity to go door-to-door saying hello to the people in your target neighborhoods. If you're new to the area, consider asking people about their favorite restaurant – everyone loves to share recommendations and look like an expert.
Expired listings: If you get the timing right, starting a conversation with a homeowner whose listing has expired can be an excellent opportunity. Be prepared to listen to some venting and to make a strong case for what you can do better – an expired listing door hanger can be a gold mine for new listing opportunities, but they can also lead to tense encounters if the homeowner is feeling overwhelmed or pressured.
Recently sold homes: Whenever you sell a home in a good market, take the time to connect with other homeowners in the area. Stopping by with a Keller Williams "Just Sold" door hanger gives you the chance to learn more about the neighborhood, and get a feel for any other homes that might be ready to go on the market. Plus, the social proof of a recent sale is as a good as a referral for helping potential prospects build trust in your services.
Open houses: Similar to recently sold homes, open house door hangers are a great way to get traction in a neighborhood and boost your numbers when you actually hold the open house. People will often turn up because they want the chance to get a peek inside a neighbor's home. As you're handing out the door hangars, be sure to ask whether they know anyone who is thinking about moving to the area. Not only will you draw in more potential buyers to the open house, you may also get buyers who are looking for representation.