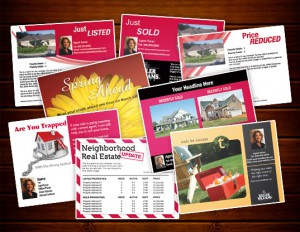 Keller Williams real estate postcards are a smart, cost-effective way to get your message across to hundreds of prospects at once. Here are four ways to make sure your 2017 postcard marketing campaigns are simple and productive:
Catch their attention
Your prospects have a lot of messages vying for their attention. No matter how great your postcard's information is, or how compelling the offer, it won't do you any good if it goes straight to the recycling bin without being read.
For the best results, look for postcards with an eye-catching design and a short, snappy headline. Don't fill the front of the card with a lot of text – once you've gotten the recipient's attention, you can give them more details on the back side of the postcard. Oversized postcards are another great way to get prospects to look at your mailer, whether it's a jumbo 5×8 card or a truly impressive 12×12 Keller Williams ProManage postcard.
Hit the small holidays
Major holidays can be a great time to reach out to your prospects and clients to let them know you care. However, they're also a time when people's mailboxes tend to be full to bursting. Spread your attention to holidays all year round with cards for Valentine's Day, Easter, St. Patrick's Day, and even Daylight Savings. You'll be able to send a sweet message or a helpful reminder that is sure to stand out from the typical weekday mail.
Plan for consistency
The most important thing you can do to stay top of mind with your mailing list is to stay in touch with them on a regular basis. Make it easy for yourself by planning out a year's worth of marketing at the beginning of the year. Will you reach out to clients on a monthly basis? Every six weeks? Every other month? Choose your desired frequency, then plan for a mix of messages throughout the year and schedule them into your calendar. If you really want to put your marketing on autopilot, you can choose from helpful options like our direct mail Postcard Mailing or EDDM services.