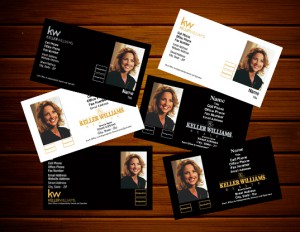 Their first use dates back to the 17th century but business cards are still a smart investment today especially as real estate marketing tools. They are a subtle but successful way to promote your real estate.
Business cards can be used as a form of advertising. They represent your business through content and design. Today there are pre-defined real estate business card templates that can be used or from which inspiration can be draw from when customizing your cards. There is also a variety of customization options to help ensure that effective business cards represents you in the best light for a higher return on investment. A company's reputation or credibility is represented through business cards and keeps your business top-of-mind.
Effective real estate business cards are convenient as well. They usually are 3.5″x2″ in size, which makes them convenient to put in a wallet, purse, or pocket. So while you can easily hand one over to a prospect they can be easily kept in a convenient place for use when real estate services are needed.
To find out more about real estate marketing business cards, contact Best Print Buy.