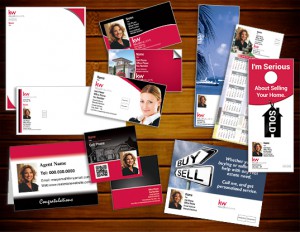 Making a yearly marketing plan can seem like a really intimidating process – how are you supposed to decide which marketing activities you'll pursue for an entire year? Who has time to plan all of that out?
In reality, your 2017 real estate marketing plan can be as simple or complex as you make it. At its heart, a solid marketing plan requires just two things: a list of goals you hope to accomplish, and a list of ways you plan to accomplish them. If you're ready to think about your own goals, here are 12 quick ideas to get you started:
Look back to look forward – You can't set future goals if you don't know where you've been. Start your marketing plan with a look at the sales numbers and marketing efforts you made in 2016, so you can get a sense of what worked and what didn't.
Plan for the big events – Holiday postcards and magnetic Keller Williams sports schedules are easy wins when it comes to real estate marketing, so building your marketing calendar around those events makes for a simple start.
Dress the part – Whether it's a first meeting, a tenth showing, or your hundredth networking event, you always want to look like the polished professional that you are. Keller Williams apparel from BestPrintBuy comes in several bold colors and comfortable designs, so you're always ready to make a great impression.
Ask for help – Building a business can be overwhelming! Take advantage of your colleagues, brokers, and online support networks to get a sense of what works for other agents.
Keep your info up-to-date – You don't need a new business card every year, but you should take a look at it every six months, just like you check your smoke alarm batteries. Verify that all the information is correct, and make sure the design still feels fresh and relevant.
Know who your customers are – Having a target market is vital for creating effective marketing. But does your target market reflect the customers you're actually working with? If not, you probably need to update your marketing (either to attract a different market, or to focus on drawing in more clients from your actual market).
Don't be afraid to brag – As hard as it can be to toot your own horn, it's a great way to let potential clients know that they're in good hands. Make a plan now to send out some Proof of Production and Recently Sold postcards throughout the year to show everyone that you know your stuff.
Ask for the referral – When it comes to real estate referrals, the reality is truly "ask and ye shall receive". If you've had a good experience with a client, go ahead and ask for that referral, both immediately after the sale and 6 or 12 months down the road.
Hit every house – Every Door Direct Mail is a great way to hit a large part of your market without a lot of effort. Use your own list, or narrow an existing list with demographic options that make it easy to focus on your ideal prospects.
Work your network – When the going gets busy, it's easy to neglect your network, but that's no way to build a steady stream of referrals. Make time throughout the year to put on that name badge and start shaking hands.
Go digital – Social media is not just a passing fad. You don't need to be active on every platform (and you would probably go crazy just trying!), but it's a good idea to pick one or two that make sense for you, and work on building connections from there.
Keep in touch – Consistency is the most important element of any marketing plan. Whatever it is you want to accomplish in 2017, keep working at it, and success will follow.