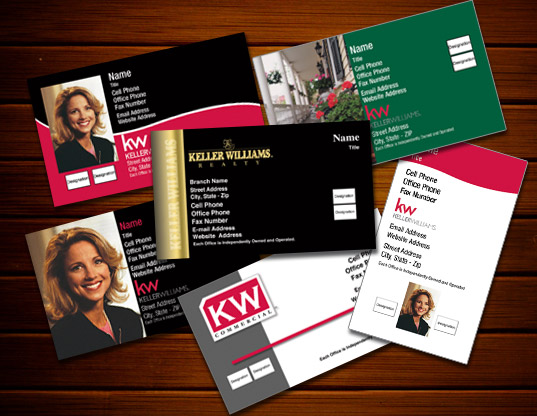 How long has it been since you've updated your Keller Williams business card? If you've been reordering the same card for years, it may be time for a fresh look. Here are five simple questions to ask yourself to find out if you're ready for an update.
1. Has any of your information changed? You don't want to be the agent who is crossing out old, out-of-date information and writing in the new number or email address by hand. It's unprofessional, unattractive, and time-consuming. Given the great deals you can find on Keller Williams business cards, if any of the information on your current card is incorrect, it is definitely time to order new cards.
2. Is the design looking dated? Style may be subjective, but no one lands on a Geocities website in this day and age and thinks of it as cutting edge. If your card comes across as woefully out-of-date, it's worth taking a look at some of the new designs available – whether you're planning to switch to something modern or keep it classic, there are a lot of options for every style.
3. Does it help you to get connected? With the advent of social media marketing, a business card is often a first step toward a relationship that will develop online. It's possible that potential clients can search for you online using the information on your current business card, but why make them work for it? Make connection simple by including some of your social media accounts, whether that's LinkedIn, Facebook, Pinterest, Twitter, or something else entirely.
4. Does the photo look out of date? If you're still rocking 90's hair on a business card in 2014, it's probably time to update with a new headshot. Keeping your branding consistent may mean that you don't want to change the picture every year, but it's a good rule of thumb to get a new photo taken every 4-6 years. After all, your business card should help you establish a connection with a possible client. It can't do that job very well if they can't recognize you from your own photo.
5. Has your marketing position or value statement changed? This may be the most abstract of the five questions, but it's a good one to keep in mind as your market changes. Your business card should help you establish immediate credibility with your target market. It's a way to open the door so you can communicate your value in further conversations and connections. If your idea of the perfect client has changed since you last updated your cards, it's worth taking a look at them with fresh eyes. Do your current real estate business cards make the impression you want them to make when you hand them out?
Whether you were holding off on getting new real estate business cards because you were too busy or just used to your old look, you should know that BestPrintBuy has great solutions just for you. Our easy-to-use interface makes it simple to build a customized business card from scratch, or to use one of our hundreds of templates to create a card that perfectly suits your style. With great prices and speedy shipping, it's never been easier to give your Keller Williams business card an overhaul.