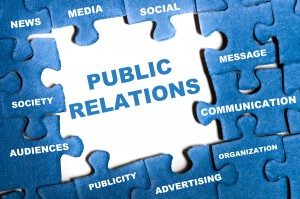 Become part of the news by writing a press release. In short, a press release is an announcement to the media. The objective is to secure positive press for a business. The reasons to send out press release include announcing a new business, employee, event, program, or activity. Press releases are a big part of good public relations.
Newsworthy Information
For instance, the media may publish a brief item about a new staff member joining a local real estate agency. There newspaper may feature an article about a community event that is sponsored by a local business. Some companies partner together to provide a service to the community in hopes that it gets press. Still others may donate to a charitable organization Whether it is traditional print media or online websites, all of these examples are ways that a business can raise its public profile and improve its public relations efforts.
Email vs. Direct Mail
Most companies will email press releases, but if you mail out a press release through the post office, you can also include your real estate business cards, real estate postcards, and magnetic calendars. This is what's known as a press kit, and it may get more attention than an email that gets quickly deleted.
Media Attention
Your goal is to get attention from the media and from the public. While some people refer to public relations as "free advertising," it is really a way to build a good reputation with potential customers and get its products, services and features covered by the media.
Guidelines
Follow the guidelines below to increase your chances of getting media attention:
Press releases should be one page to two pages and properly formatted
Stick to the four W's—who, what, when, where, why
Make sure the information is timely, informative and relevant
Send out press releases a week in advance of event
Proofread and check for accuracy
Follow up with media contacts to help media coverage
Self-promote on Facebook, twitter and Linkedin
BestPrintBuy.com provides print and marketing solutions for real estate agents and their franchises. We offer online design and print solutions for business cards, postcards, postcard mailing and marketing, folded note cards, door hangers, note pads, bookmarks and several other products to real estate agents.